Minister of Foreign Affairs of Sri Lanka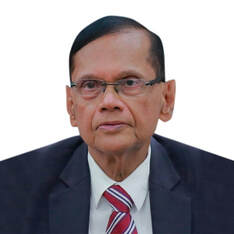 Hon. Prof. Gamini Lakshman Peiris was appointed as the Minister of Foreign Affairs on the 16 August 2021. Hon. Minister G.L. Peiris counts nearly three decades in politics and governance and was a Member of Parliament since 1994, preceded by a career in the Higher Education sector.
Hon. G.L. Peiris has held multiple Ministerial portfolios, serving previously as Minister of Education (up to 15.08.2021), Minister of External Affairs, Minister of Export Development and International Trade, Minister of Justice and Constitutional Affairs, Minister of Ethnic Affairs and National Integration, Minister of Enterprise Development, Investment Promotion and Industrial Policy and Deputy Minister of Finance. In addition, he has also served as the Senior Advisor to the Hon. Prime Minister, Chairman of the All Party Parliamentary Committee on Constitutional Reforms, and Leader of the Government Delegation in 6 rounds of talks with the Liberation Tigers of Tamil Ealam, September 2002-March 2003.
Minister Peiris also accounts for 25 years of academic and administrative experience in the higher education sector having held the position of Vice Chancellor at the University of Colombo. Prof. Peiris was a Rhodes Scholar and Quondam Visiting Fellow of All Souls College, University of Oxford; a former Distinguished Visiting Fellow of Christ's College, Cambridge, and SMUTS Visiting Fellow in Commonwealth Studies in the University of Cambridge; and Butterworths Visiting Fellow in the Institute of Advanced Legal Studies, University of London. He was also held positions as Vice Chairman, Janasaviya Trust Fund; Member of the Presidential Commission on Youth; Member of the Securities and Exchange Commission; Commissioner, Law Commission of Sri Lanka; Acting Chairman of the National Film Corporation of Sri Lanka; and Editor of the Bulletin of the Law Commission of Sri Lanka.
Hon. G.L Peiris received the title of 'Vidya Jothi' for 'Exceptional Scientific Achievement Involving Original Research' from His Excellency the President of Sri Lanka in the National Honours list on Republic Day, 1987. Minister Peiris holds a Bachelor of Law (First Class Honours,Ceylon), 1967 and has a Doctorate of Philosophy (Oxford), 1971 and Doctorate of Philosophy (Sri Lanka), 1974. He was a past pupil of S. Thomas' College, Mount Lavinia.
​
He was born on 13th August, 1946 and is married with one child.