Email:
slemb.doha@mfa.gov.lk
Contact Number:
+974-4499 8660
Opening Hours
Sunday – Thursday 08 AM – 04 PM
Working Hours
Sunday – Thursday 08 AM – 01.00 PM
Embassy Visitors / Consular affairs
Second and Fourth Friday of every month from 9.00 am to 12.00 pm
Consular Services
The Embassy caters to the Sri Lankan community through Passport Services, Registration of Births/Marriages and Deaths and other Consular Services.
The Embassy ensures the welfare of the Sri Lankan community and caters through attesting Employment Contracts, Job Orders and renewing SLBFE Registrations.
Visa
This provides general information on how to apply visa to travel to Sri Lanka and other required information.
Important Notices
This provides important information about media releases, tenders/procurement and other notices.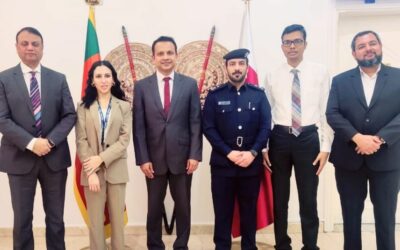 A delegation led by First Lieutenant Ali Al Sherawi from the Ministry of Interior Qatar (MOI) met with H.E. Ambassador of Sri Lanka to the State of Qatar, Mr. Mohamed Mafaz Mohideen, on August 9, 2023, at the Embassy. The meeting encompassed discussions on matters of mutual interest, specifically focusing on issues related to visas and the visa issuance procedure at the QVC in Colombo.
read more